"Light It Up" was the theme for the 2017 annual banquet. In case you missed it, here is a highlight video showcasing the night's biggest moments.
Read More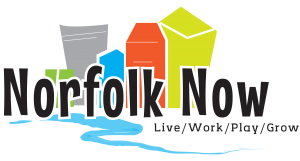 Area employers are looking for young professionals and skilled workers. Keep checking our job board for new opportunities.
Many area residents have no idea what goes on behind the gates at some our largest employers or our niche industries. Check out the articles below to learn more about exciting careers that await.
Whether an entrepreneur looking to start their company right here in Norfolk or a young professional looking to move back to the area, Norfolk is the perfect place to excel in your profession.
New Projects/Business Expansions
Often, Norfolk is too modest to tout its successes but our dynamic region continues to grow and demonstrate just how solid and diverse our economy truly is.
Did you Know? $250 million dollars have been invested in the Norfolk Community in the last five years?
John Robinson, Jewish Immigrant, chose to open the Norfolk Iron and Metal Company in 1908. It is fortunate that generations of Robinsons since have continued in and grown the business.
NORFOLK TRIVIA
Norfolk Area Chamber has over 680 businesses representing over ________ jobs in the community.
ANSWER
The chamber represents over 15,000 jobs throughout the Norfolk area.