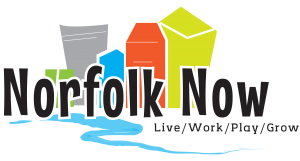 Area employers are looking for young professionals and skilled workers. Keep checking our job board for new opportunities.
New Projects/Business Expansions
Often, Norfolk is too modest to tout its successes but our dynamic region continues to grow and demonstrate just how solid and diverse our economy truly is.
John Robinson, Jewish Immigrant, chose to open the Norfolk Iron and Metal Company in 1908. It is fortunate that generations of Robinsons since have continued in and grown the business.
Do you have any industrial buildings with port access?
Will you send me information, guides, or maps about Norfolk for our move/visit?
How often is the Norfolk Now magazine released?
If I am interested in starting a business in the Norfolk area, who do I contact?
How do I post a job on the job board, and what does it cost?
How can I get Norfolk Now to cover one of my events?
I am new to Norfolk. Is there an easier way to meet people?