Black Cow Fat Pig is a brand new restaurant in Norfolk, and they fill right at home. This isn't just another steakhouse and burger joint. All of their thick cuts of beef come from Black Angus cattle right here in Nebraska, their juicy cuts of pork come from right down the street at a local farm, and when summer rolls around, you can count on all their fresh produce being from the hardworking farmers right here in our region. It doesn't just stop with the food, all of the beer on tap at the Black Cow Fat Pig is Nebraska brewed and they even have their own house beer. Ask for a sample!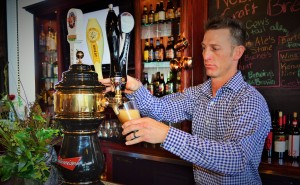 Michael and Amber Behrens opened this exciting venture for business in the last few weeks of December, but they prepared for this opening for almost a year. At the beginning of 2014, they both lived and worked in Lincoln and were on the hunt for the perfect venue to launch their dream. "We were looking for something that had the posh casual feel to it," said Michael, "I was visiting my family here in April and we decided to stop by this place." Michael is a Norfolk native and is excited to build his dream in Northeast Nebraska.
Black Cow Fat Pig is anything but ordinary. It unites the flavors of a backyard barbeque with the upscale impression of a fine dining restaurant; and Michael and Amber don't mess around with fine dining. They both have business and hospitality backgrounds and brought their A-game with them to Norfolk. When you walk in the door, you are greeted by a friendly host as you notice classy chandeliers dangling from the tall, open ceilings. To your right is a long, full-service bar, with a large wooden backdrop and an outgoing bartender pouring beer from custom taps. Just a little past the bar is a floor to ceiling wine cabinet stocked with perfect reds and whites to compliment any meal. As you are seated, you notice fine, white linens cover the dark wooden tables and silverware is neatly rolled in cloth napkins. There is even a separated corner of the restaurant with leather lounging furniture. Walk all the way through the restaurant, and you will find a concealed banquet room with a private bar that can host 100 people for any occasion.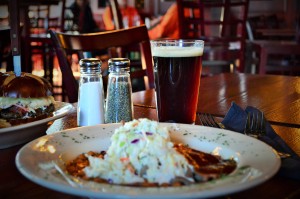 The food is unquestionably a crowd pleaser, it fills your mouth with bold flavors. You can count on Michael inspecting every plate as it passes through the swinging kitchen doors. The menu is straight forward and simple and if you are a fan of protein, you can spend several meals sampling the traditional cuts of meat with a Black Cow Fat Pig twist. If you walk around downtown Norfolk around noontime, you can smell the juicy meats cooking on the smoker out back from blocks away. (To fulfill those smokey desires try the smoked briquette on a bed of warm beans and homemade slaw!)
You will not be disappointed when you decide to give Black Cow Fat Pig a try; they can give you an amazing meal, in an amazing atmosphere, with amazing service. Make a reservation for this weekend, and let this new kid on the block impress you!