Giggles, bubbles, and fun. Oh, my! Walking into Gobs and Gobbs of Fun, you experience just that—fun!
Gobs and Gobbs of Fun is a place for children to be children. From the moment you walk in, you know children are being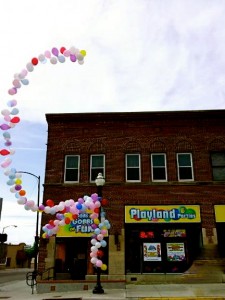 provided with a loving, safe, fun environment. Founders and co-owners, Tracy and Tara, are two sisters who had been running an in-home daycare. When they designed Gobs and Gobbs of Fun they did it with both kids and parents in mind. Their thought was to design a children's play place with all the features they wished they had as day-care providers and stay-at-home moms. Small dreams quickly turned into big realities and Gobs and Gobbs of Fun has become much more than originally thought.
Watching the children running around, dancing through the bubbles, and climbing throughout the jungle gym , you see the focus on children, fun, and safety. Toys and games are in abundance for children of all ages and interests. Air hockey, video games, slides and tunnels, photo booths, Legos, and so much more are available for children. Parents are sometimes surprised to see a piano available for children, but co-owner Tara says she enjoys it.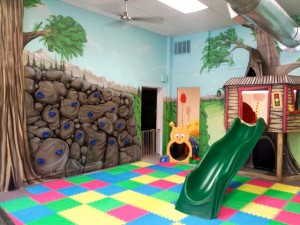 If you need a place for your child's birthday, Gobs and Gobbs of Fun hosts birthdays—and they do all the work for you. All you need to do is invite the birthday honoree's friends—Birthday Party Planning doesn't get any easier! Did you know your child's birthday could make a difference around the world? A business on the corner of 5th Street and Norfolk Avenue is making a global impact. Gobs and Gobbs of Fun have "Birthdays with an Impact" designed to help raise funds for Living Water International.
Instead of gifts, children can choose to have their friends donate to the building of a well. These wells provide clean drinking water for villages around the globe that would not have it otherwise. To-date, Gob and Gobbs of Fun has contributed to the building of two wells, one in India and one in Haiti. "Birthdays with an Impact" are designed to teach children the value of thoughtfulness and selflessness at a young age.
Gobs and Gobbs of Fun are tailored to walkers up to around age 11; however, parents, grandparents, and other adults aren't forgotten. Wi-fi and coffee are on the house. As your children are running wild and playing games, you can enjoy a nice cup of coffee while perusing the internet, enjoying a good book, or just chatting with fellow adults. And, if you're there at 12:30, you'll get caught up in a game of Sequence with other adults. So, bring the kids down and get caught up in the giggles and fun!