Family ties often have a magical way of bringing people together, but sometimes it takes more than magic—it takes opportunity.
Three brothers from nearby Stanton, answered the knock of opportunity, reuniting their family.
Take Jason Lammli, now an established attorney at local law office, Brogan Gray, P.C., who found his opportunity to make it back to Norfolk. He earned his law degree from Marquette University in Wisconsin, and then saw much of the world as a lawyer with the United States Air Force JAG Corps. His travels led him to Florida, Arkansas and even overseas with military special operations in Iraq.
"Jason now has two children, and his wife works for an investment and insurance firm in town.I think a lot of people forget that I have been to so many different places. They just thought I graduated from school and came right back," said Jason.
"One thing that really helped us make the decision to come to Norfolk was the community. Living in a lot of different large cities makes it easy for you to get lost and not ever really get connected to anyone. We missed the closeness to the community you live in, and being able to get involved."
And get involved he has. From his local church—Sacred Heart Parish—to Kiwanis Emerging Leaders, Jason has appreciated the opportunity to get to know people and build relationships while raising a family in a close community.
"Every community you live in is what you make of it. I see that in Norfolk, there's opportunity here. My wife is from rural Iowa and we felt it just made sense to live here. The great quality of life and the  family that is here—though we didn't have to come back, we did."
His younger brother John took a different path. He set his sights on medical school, specifically in Iowa City, and later an orthopedic residency at the University of Kansas School of Medicine in Wichita, Kansas.
Now an orthopedic surgeon at Faith Regional Health Services, the region's largest hospital, he is able to practice in his field while he and his wife raise their 19-month-old son. When asked why he came back to Norfolk, it really came down to a sense of community in the medical world as well as in his personal world.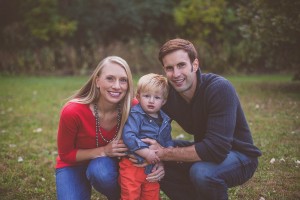 "I was very fortunate to find a great job opportunity and have a practice where I have excellent colleagues that are really interested in helping mentor," said John. "I know that I have other surgeons and specialists that work together to help me practice better medicine."
Of course, being a sports fan—whether that be local or Nebraska Husker-focused—helps.
"I know I can really connect with my patients and their family because we can share a common interest. It really helps to have that connection and it's satisfying to be able to really follow my patients' progress."
In addition to his career, both he and his wife saw the safety of a smaller, more rural community as a positive departure from the larger cities in which they had lived.
The two brothers now live across the street from each other and enjoy a closeness that is reminiscent of how they grew up in rural Stanton, a small town just fifteen minutes from Norfolk.
"When you start having kids, you realize that you want them to grow up around family, their cousins, uncles and get to know their families—especially their grandparents," said John.
"I knew my kids would have the opportunity to get more involved in things—including getting to know and understand rural life and how we grew up. I think this helps them become a more well-rounded person."
To add to the family connections, the youngest of the brothers, Allan, returned to Norfolk after furthering his education in Minnesota and the University of Idaho then living in northern California near San Francisco.
Allan chose to come home because it offered him unique scholastic and job opportunities. Allan is currently finishing his degree from nearby Wayne State College and student-teaching at Norfolk Catholic School—the same school he attended in his younger years.
His desire to return also included a combination of family ties and community.
"Even though I moved back to get my teaching degree, it's very easy to make a connection with someone else and get involved in the community," said Allan.
This has included coaching varsity track for three seasons and varsity football last fall at Norfolk Catholic.
"Norfolk is really a great, smaller community with the feel of a larger town. There are lots of things to do locally and it's an easy drive to metro areas."
His brothers share that same sentiment.
"There is a large and growing amount of young professionals in Norfolk, which is something you don't usually see in a smaller community such as this. There is actually a fair amount to do here now. There was no waterpark, Great American Comedy Festival, Oktoberfest, or big-name concerts going on when we were growing up," said John.
Jason found that the larger cities he was used to living in were not rivaling what was going on in Norfolk.
"The types of concerts that we were trying to go to in larger cities were happening right here in Norfolk," said Jason. "There is a lot more to do here than there ever was."
Their parents, Mark and Rosalie, still live in Stanton, where his dad is the local veterinarian. Their oldest brother, Michael, lives and teaches middle school in Lincoln, Nebraska, and much of their extended family also lives in the area.
Between local roots, family and community connections, this trio of brothers found their way to make Norfolk their home again..