UNMC College of Nursing
At the University of Nebraska Medical Center College of Nursing in Norfolk, nursing school generally means class from 8 a.m. to 12 p.m. ("morning lecture," as it's called), followed by "afternoon lecture," which takes up the slot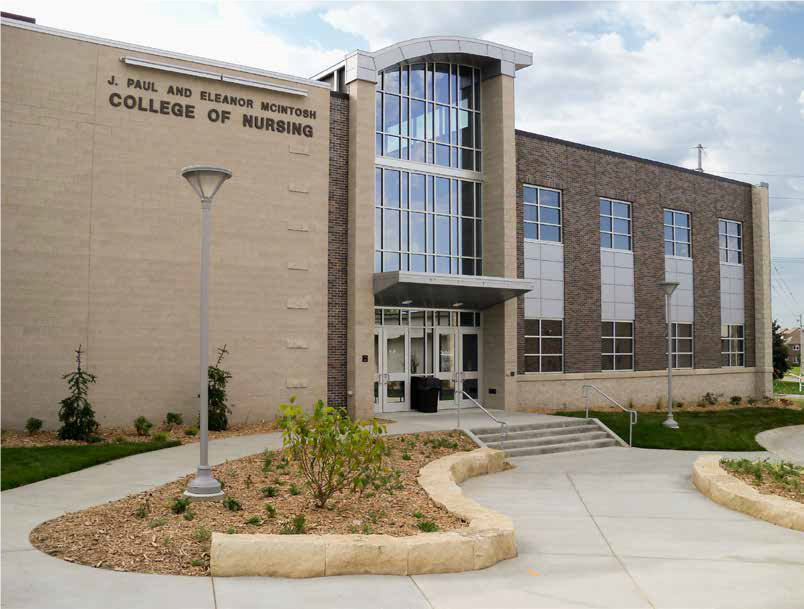 of time between 1 p.m. and 4 p.m. It means clinical rotations and externships and spending days at hospitals in Albion, Hastings and O'Neill – to name a few – to learn about everything from behavioral health to labor and delivery. It means homework and studying before class, homework and studying between classes and homework and studying after class.
Those are the big things.
And then there are the little things – like having sushi for lunch at the new restaurant in town or getting home from school and throwing on a pair of comfortable sweatpants.
Of UNMC's five nursing schools, its Northern Division in Norfolk is the newest. The college opened its doors in 2010, producing its first class of graduates in May of 2012. When it releases its next crop of nurses this spring, two students, Courtney Walker and Joey Chung, will be among those receiving their BSNs. Before Norfolk, Walker was at the University of Northern Colorado when her advisor suggested she apply to UNMC. Others told her to aim, more specifically, for the Northern Division, as her chances of being accepted there were high.
"I've wanted to be a nurse since as long as I can remember, and Norfolk was my light at the end of the tunnel," Walker said.
For Chung, the move to Norfolk was a move back to his hometown. He was born here, relocated to Hastings when he was four and then returned to the area so that he could better focus on his two years in nursing school. Chung also has family in the city, including an aunt and an uncle, plus a grandmother who moved into a local nursing home after he started taking classes at UNMC, all of which helped make his choice in Norfolk "the right one."
"It ended up being a great decision," Chung said.
And now, two years later, he and Walker are facing graduation – and the medical world – with an arsenal of knowledge, including months of classroom instruction and a bevy of clinical experiences. In fact, Chung has that second one down to a list: medical surgery, home health, WIC, public health, operating room, obstetrics, long-term care and mental health.
"The list goes on and on, and that's one of the good things about becoming a nurse: you have many choices, and it's good to experience them all to know what you like best," Chung said.
To further build his nursing knowledge, he spent last summer in the intensive care unit at Mary Lanning Healthcare in Hastings. The externship through UNMC not only brought him back to school with more confidence in his abilities but also gave him an answer to the question, "What am I going to do after graduation?"
"I know for sure that I want to be in a critical care setting" Chung said. "My externship was…very exciting, so that is what I know I want to go into."
Outside the classroom, Walker was in O'Neill at the end of November for a clinical at the hospital there. She called the experience a fabulous one and said that it allowed her to apply the information she'd learned in class to the circumstances she faced in practice. "I think in any nursing program it feels like you learn so much in lecture, and the relevance to practice doesn't seem possible sometimes; but in clinical, the information from lecture becomes so much clearer," she explained.
Even farther outside the classroom – or, at least, in relation to the ones in Norfolk – Walker and Chung have another experience they can tuck away with their two years at UNMC. Late this past winter, the pair flew to Shanghai, China for three weeks of classes and clinicals. There, they were exposed to Eastern medicine and gained knowledge that other nursing students in the United States may not ever have the advantage of earning.
"I believe this opportunity will help me learn about different cultures," Chung said before leaving for Asia. "We were taught at UNMC the importance of interacting with different cultures because, as future nurses, we are going to be in contact with many different cultures no matter what specialty we go into."
And no matter where they go – whether it's near, far or the humble northeast Nebraska town that helped them get their start.