Teammates at Vulcraft in Norfolk have a big reason to celebrate this summer.  The designer and manufacturer of open web steel joists and steel decking marked its 50th year in the Norfolk community with a celebration on June 19. But there was so much more to celebrate than simply 50 years of operation. Teammates of the facility were also celebrating 50 years of the company's success.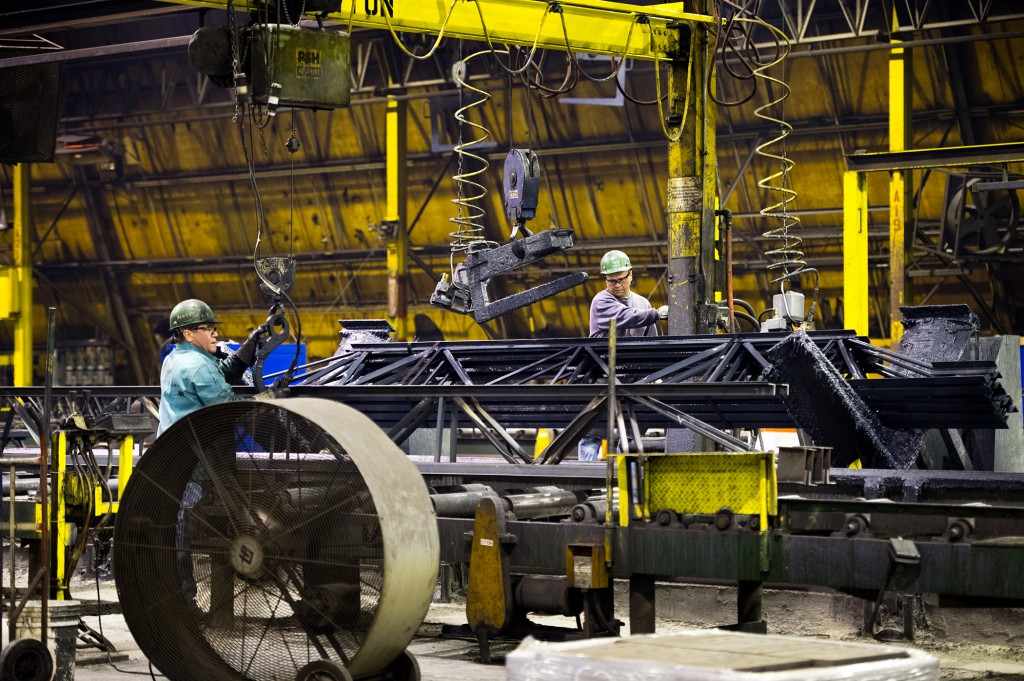 "(There's) a lot of excitement, anticipation and pride, especially amongst the teammates who have been with Vulcraft Nebraska for several years," said Mike Chikos, traffic manager at the Norfolk facility, in regards to the milestone. Fewer than 100 people were employed by The Nuclear Corp. when Vulcraft's parent company – now known as Nucor – announced plans to build its first green field facility in Norfolk in 1963. In the 50 years since operations began here, Vulcraft in Norfolk has grown to employ more than 320 teammates.
The fruits of Vulcraft teammates' labors can be found in floors and roofs of buildings throughout the country. "If you go into a Walmart or HyVee, Home Depot, Cabela's, Quick Trip, Kohl's, Bass Pro Shops, schools, Faith Regional (Health Services), Menards, CVS — these are all everyday examples of where our products are," said Mark Cook, sales manager for Vulcraft.
The steel used to make Vulcraft's products is produced by its sister Nucor divisions from up to 99 percent recycled steel. Its steel joist designs can vary greatly and range in length from 10 to 250 feet with depths from 10 inches to 13 feet. They can also have many different profiles in order to create a flat roof, pitched roof, or even an arched profile.
Its steel decking is corrugated steel sheets made from 20 ton coils of flat steel sheet. The flat sheet is corrugated to create ribs in the deck which adds strength for spanning distances between the supporting joists or beams. Vulcraft produces 17 different profiles of steel decking in seven gauge thicknesses. 
The local facility has undergone numerous expansion projects in the past 50 years. In 1972, four bays of production were added from the original raw material bay, which once housed raw material, as well as production lines. In 1974, a briding building was added, followed by a truck shop in 1976. A deck plant was added in 1977, and maintenance buildings were constructed in 1966 and 1996.
The construction of the local plant played a critical part in the company's overall growth, as well. Shortly after Vulcraft built its Norfolk facility, then-company president Ken Iverson – who passed away in 2002 – began discussions that eventually led to the construction of Norfolk Nucor Steel Bar Mill in the early 1970s.
"That plant went from producing a small amount of steel to supply this division to sending steel all over North America," said Doyle Hopper, vice president and general manager of the Norfolk Vulcraft facility.
Today, Nucor has more than 200 operating facilities and employs more than 22,000 teammates nationwide. More than 1,000 teammates are in northeast Nebraska, employed either at Nucor Vulcraft, Nucor Bar Mill, Nucor Cold Finish or Nucor's first and only Nucor Detailing Center. "We have more product offerings in Norfolk, Nebraska, than any other city in the Nucor company," Hopper said.
Hopper said he appreciates the support Vulcraft and its sister companies have received from Norfolk and northeast Nebraska. He also gives credit to the Vulcraft's teammates who are on the job for the company's success and praises the men and women who retired from the company because they "paved the way" for the company's future.
Chikos echoes that sentiment. He sees the hard work of his teammates as the driving force that will lead Vulcraft to even more success in years to come.
"Our teammates are very proud of the success that Vulcraft Nebraska has had over the past 50 years and will continue to work hard to ensure that success continues for the next 50 years," he said.