Dr. Marysz Rames has a story to tell.
It's a multi-faceted story with an array of characters all set at a state college in Northeast Nebraska. Actually, the story is about Wayne State College, where Rames began serving as president last summer.
Rames said one of her goals in her new role as President of the college is reaching out to let more people know about the opportunities that await those who choose Wayne State College as the pathway to their future.
"Wayne State College is a wonderful institution that provides a quality educational experience, and we need to tell that story more broadly," Rames said.
Rames's own story began while pursuing a bachelor's degree in business and communications and her minor in economics at the University of Northern Colorado (UNC) in the early 1980s.
However, Rames was about to start a new chapter.
A recession had restricted the business job market in the Denver area. And the dean of students at the UNC encouraged her to consider a career in higher education and work in student affairs. Her past involvement in student government and Greek life gave her the opportunity to build her leadership skills and spurred her interest in education. She earned a master's degree in educational administration in 1986 and, shortly thereafter, took a position
at the University of Wyoming.
"That really started me down this career path of being in higher education," she said. "It came from undergraduate involvement and wanting to give back and help students have the same great experience I had."
Rames earned her Doctorate in Adult and Higher Education in 1997 from the University of South Dakota in Vermillion. Prior to coming to Wayne State College, she served as Vice President of Student Affairs at South Dakota State University for several years.
"It's interesting to me. I feel like I've come in an era where women have many more opportunities than they did back in the 1960s and even the '70s. I think we've come a long way as women, and that the need for our type of leadership and what we bring to the table is more valued and more important today than it has been in the past," she said.
She also believes there is "still ground to be plowed" when it comes to women in leadership roles. But Rames said she has felt empowered and supported as a female leader by the Nebraska college system. Rames said she is still in the process of learning the culture at Wayne State College and in Nebraska. One of the things she has found appealing from the start of her work at Wayne, a smaller school than SDSU, is the opportunity she now has to work with
students on a regular basis.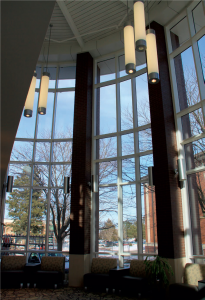 "I try to get to as many student events as I can and hear their thoughts on how they feel things are going at Wayne and how I can engage with them and help them have a great experience here," she said.
Rames said she regularly gathers with groups of students for listening sessions to talk about the challenges and opportunities available at Wayne State. "It's very important for me to engage with the students. I look forward to having the relationship with students on campus and providing them with support and encouragement much like I had when I was an undergraduate," she said.
Rames said she wants to tell Wayne State's story to a broader audience, so a greater number of students can benefit from the opportunities provided through degrees earned at the school. In addition to the listening sessions, she also has participated  in regional receptions across the state, where she's spoken with residents and alumni about their thoughts on the challenges and opportunities with the school.
Renovation and construction of some of the college's infrastructure, including upgrades to Bowen Hall and a new facility for industrial technology, are currently in the works at the school, she said. "The updates will augment the school's  curriculum to make Wayne State an even better institution of higher learning," Rames said. "It seems to be coming at the perfect time, too, as the demand for professionals in the field of industrial technology is growing, especially in northeast Nebraska."
"We know there's a shortage in the state in the area of industrial technologies," Rames said. "We want to engage in some very strong marketing programs to help
students understand those pathways."
There are changes underway for Wayne State College. It starts with the new President, Dr. Rames, and ends with the students who will be starting an exciting future in northeast Nebraska.